21 February 2023
New study: The birth of an international Internet hub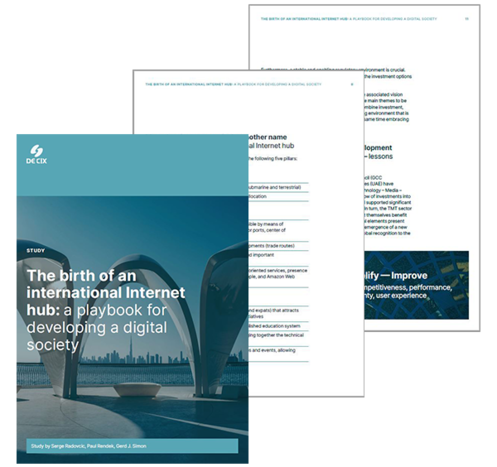 Reliable access to digital infrastructure is not simply a convenience for our personal lives or an enabler of business success, but vitally important for the development of cities and regions. Our new study "The birth of an international Internet hub: a playbook for developing a digital society" explores what comprises an international Internet hub and looks at the process of creating one, using the successful establishment of an Internet Exchange in Dubai, the UAE-IX powered by DE-CIX, as an example.
What is an international Internet hub?
An international Internet hub is an internationally recognized leading metropolitan region and center for sophisticated business services, especially for the information and communication facilities necessary for the coordination, implementation, and management of global economic activities, as well as for the financial and media sector. According to the study, an international Internet hub represents the sum of the institutional, organizational, and social conditions necessary for the existence and successful advancement of a region in the digital world and defines five essential pillars of an international Internet hub:
Internet Infrastructure
Business & organizations
People & community
Regulatory environment
Capital
Case study for developing digital economies in other regions
Referencing these pillars, this study outlines the strategic steps, the achievements, and the results in the UAE over the past decade, and thus provides a playbook for other regions to follow in the development of a digital economy.
Download the study from DE-CIX "The birth of an international Internet hub: a playbook for digital economy" to find out more.